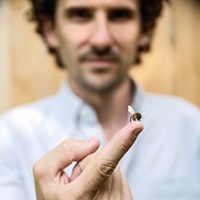 OBJECTIVES
Bees are disappearing in all corners of the globe and the consequences of this seemingly unstoppable process, are incalculable.
The repercussions for the ecosystem and even for industrial agricultural will be devastating and that means that each of us has a duty to make a contribution as designers as well as citizens.
The workshop objective is to make a structure to host a traditional beehive to be installed safely – for bees and for people – in various locations in the city, exploiting existing structures such as urban décor and architectural elements. After an initial phase of design done in groups, we will proceed with the construction of the apiaries with traditional woodworking techniques. The workshop will conclude with the participation of a beekeeper who will activate the hive with a colony of bees.
TIMING AND CONTENT
5-DAY WORKSHOP
Day 1
Introduction and full immersion in the world of bees and apiaries (lecture and video documentary "More Than Honey"). Demonstration lesson with a didactic beehive by a professional beekeeper.
Day 2
Mini case study research and first design hypotheses.
Laboratory.
Day 3-4
Laboratory.
Day 5
Laboratory and final presentation with the installation of apiaries in the selected places.