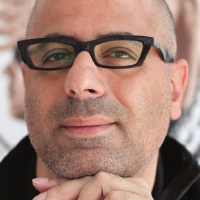 ODED EZER
Typographic Artist
OBJECTIVES
Learn and master the principals of experimental typography. Students will learn the basics that will allow them to conduct their own experimental projects in the field of typography. As the inabitants of a cultural crossroads in the middle of the Mediterranean, Sicilians have written and printed in a variety of alphabets: Greek, Hebrew, Arab, and Latin. These alphabets will constitute the raw materials from which students will fashion their typographic experiements. Step by step, the process will be demonstrated by Oded and practiced by the students.
TIMING AND CONTENT
6-DAY WORKSHOP
Day 1
PRESENTATION: DESIGNING WITHOUT A CLIENT, DESIGNING WITHOUT AN AUDIENCE, DESIGNING WITHOUT A DEADLINE, DESIGNING WITHOUT PURPOSE OR MESSAGE
(The benefits of creating experimental projects on a daily basis)
Creating the story. How to start and the different types of experimentations. Work and guidance in class. Creating the context for a personal typographic experiment.
Day 2
CREATING RULES
Limiting possibilities and playgrounds in order to allow creativity to flourish. Work and guidance in class. Visually explaining the rules of the experiment.
Day 3
CHOOSING THE MEDIUM AND TAKING FIRST STEPS
Getting to know which medium is most suitable for the experiment. Work and guidance in class. Testing different mediums and developing the visual content.
Day 4
TAKING FURTHER STEPS
Work and guidance in class. Developing the visual content.
Day 5
PACKAGING YOUR EXPERIMENT
Understanding the importance of communicating the idea to interested 'outsiders'. Work and guidance in class. Creating a plan for communicating the experiment.
Day 6 (optional)
WHAT'S NEXT?
Learning how to create a steady, ongoing process of experimentation.