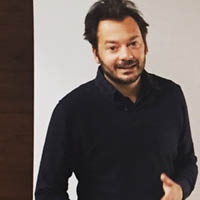 Cosimo Bizzarri
Writer / Editor
(Project Leader)
OBJECTIVES
The primary goal of the workshop is to familiarize students with the complete process of editorial publication: from research to content production, editing, finalizing, printing and exhibiting.
THE OUTCOME
A 100 page monographic publication.
An exhibition held at MADE.
A social media feed documenting the backstage of the workshop.
TIMING AND CONTENT
4-WEEK WORKSHOP (DEPENDING ON THE CONTENTS)
Week 1
RESEARCH
The tutors brief the students about the chosen theme and ask them to do research using all available tools - web searches, phone calls, fieldwork in Siracusa - and focusing on different media: pictures, video, text, design, etc.
Every day, an editorial meeting is held, in which the participants have to present their findings to the class and get feedbacks. The tutors direct the process to select the best findings that could later be turned into stories.
Week 2
CONTENT CREATION
The tutors and the participants select 20-30 stories coming out of the initial research. Through a series of meetings, they decide the treatment for each story: for example, the first story could be told with a portrait and an interview, while the second story could be represented through an infographic page etc. Each student or group of students gets tasked with producing one story. Daily meetings are held to verify how the content is coming together.
Week 3
EDITING
Once the content for each story is gathered, the tutors help the participants to narrow it down to what's really essential to tell. That means selecting the best pictures of a photostory, editing a text to the required wordcount or refining an illustration. This is also the stage in which the actual layout of the publication starts coming together. At this stage, meetings happen constantly.
Week 4
PRINITING & EXHIBITION SET UP
Tutors and participants close the publication in terms of design, writing and photography and bring it to the printers in order to get the best possible result in terms of paper, format and print quality. Selected students may be asked to follow the whole printing process. In the meanwhile, tutors and participants get ready to exhibit the content inside the MADE spaces. The conclusion of this phase is the opening of the exhibition, with invitees and a little celebration party.