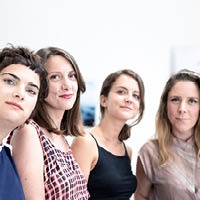 LOTTOZERO
Textile designers
OBJECTIVES
The workshop aims to stimulate critical thinking and creative approach to fashion, elaborating innovative solutions to contemporary problems through the experimentation with textile techniques.
The workshop begins with an introduction to the contemporary fashion system, focusing on its processes and impacts on people and the environment. This introduction will be supported by visits to some historical textile companies and businesses in Prato textile district.
Together with the students, we will identify and analyse the critical points of the fashion system, understanding how a designer can intervene. Thanks to classroom discussion and the sharing of some case studies, students will be asked to reflect and imagine new possible approaches and solutions related to materials, processes, use of resources, construction methods, ways of use and consumption, information systems, transparency and traceability.
Taking inspiration from one of the virtuous case studies, students will create an up-cycled capsule collection of fabrics or fashion, through textile experimentation. Students will learn a range of different textile techniques, such as dyeing, needle punching and printing, in order to intervene and give a new value to old textiles, otherwise destined to be thrown away.
TIMING AND CONTENT
5-DAY WORKSHOP
Day 1
Introduction to the fashion system with an highlight on their impacts and virtuose case studies; visit to one of the few Italian companies which features all the production cycle, from the row textile to the finished garment; visit to a wool recycling company.
Day 2
Introduction to the design brief; visit to a "cenciaolo" (old clothes collector, typical from Prato) where students will collect their working materials; introduction to the Lottozero textile laboratories and its available techniques; introduction to heat press and application of foils, glitter, metallic surfaces on fabric.
Day 3
Dyeing workshop with a focus on different techniques: tie die, dip dye, shade dyeing; needle punching workshop.
Day 4
Design and samples of the collection, using the techniques learned.
Day 5
Finalizing the capsule collection.