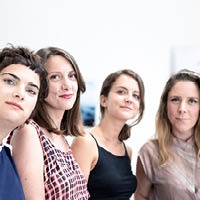 LOTTOZERO
Textile designers
OBJECTIVES
The course aims to teach participants how to approach a creative project starting from archive materials, through the development of a capsule collection of digital prints for fabric.
The course includes theoretical and practical lessons on the interpretation of archival materials and design methodologies, as well as techniques and tools for the realization of digital prints for fabric.
Through presentations and practical exercises, students will learn how to acquire relevant information from an archival artifact, how to find their own point of view, and how to interpret and rework these materials in a personal way that is faithful to the originals. Students will also learn the fundamental knowledge of designing a collection of fabric prints, gaining technical and design skills.
Starting from the archival pieces, the participating students will be able to experiment in search of their own modus operandi built on aesthetic values and individual strengths.
TIMING AND CONTENT
5-DAY WORKSHOP
Day 1
Working with the archive: references and contemporary examples; recognize the identity and main characteristics of a collection and relate them to the identity of the designer through practical exercises; observing and interpreting the archive: elaboration of the chosen fabric through mixed techniques, such as sketches, photographs, collage etc.
Day 2
Visit of an historical company textile archive in Prato; introduction to the concept of pattern and focus on digital printing; genres, mixed techniques, brushes and image treatments, scanning of manual patterns and fabrics; practical exercise; introduction to the design brief of a capsule collection of prints inspired by one or more pieces from the archive.
Day 3
Drawing relationship (compositional schemes and drawing structure, dynamic directions, empty and full spaces; skipped ratios of a half, a third and a quarter and flush ratios); practical exercise with archive materials.
Day 4
Moodboard, sketches, color variations and placement.
Day 5
Creation of a capsule collection of prints.