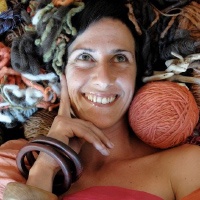 OBJECTIVES
Familiarize participants with the practices and techniques of experimental hand weaving and/or dyeing, by introducing them to the world of natural fibres, both animal and vegetable, and by inviting them to become active participants in the entire process through the construction and assembly of their own looms (which, at the end of the workshop, they can disassemble and take home with them).
TIMING AND CONTENT
4/6-DAY WORKSHOP (DEPENDING ON THE CONTENTS)
Day 1
Theories and Techniques of Weaving
Construction and assembly of your own loom.
Day2
Preliminary design
Preparation of the threads.
Day 3
Laying out the warp
Threading the weft to make the weaving.
Day 4
Guided visit to the Cardinale canyon to look for plants that provided the fibres used to make the threads and dyes used in the first three days of the workshop.