The Art of cutting and shaping Images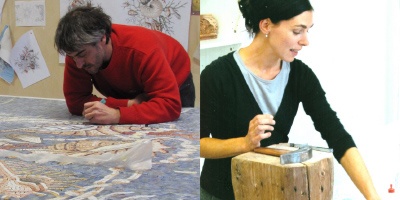 CHRISTIAN ROSSI
ELISABETH COZZA
Artists

OBJECTIVES
Students will be introduced to the basic mosaic techniques, to the theories of colour and to the materials used for the creation of a mosaic. They will also receive basic notions about the different mosaic styles, particularly the Roman and Byzantine mosaics present in Sicily. They will learn to cut the materials available (stones and marbles) with the traditional tools and will be introduced to the complexity of a fascinating technique that requires all round skills.
TIMING AND CONTENT
6-DAY WORKSHOP
Day 1
BRIEF HISTORIC INTRODUCTION TO MOSAIC, PRIMARILY TO ROMAN AND BYZANTINE MOSAICS PRESENT IN SICILY
Introduction to mosaic tools and materials; preparation and cutting of materials; introduction to the different adhesives and grouts.
DIRECT TECHNIQUE
Pre-paration of a first mosaic (30x30cm) based on cartoons provided by the school.
Day 2 to 4
THE FIRST MOSAIC WILL BE COMPLETED
Preparation of a second mosaic with a more complex design which will require a higher skill in the cutting process. It will be conceived on a larger scale and all the students will be envolved in all the phases of its creation.
Day 5
IN THE MORNING the mosaic will be completed and assembled.
IN THE AFTERNOON guided visit to the Roman Villa of Tellaro near Noto, to see the Roman mosaics within.
Day 6 (optional)
Guided visit to the Roman Villa of Piazza Armerina.
OPTIONAL SECOND WEEK
Day 1 to 5
INDIRECT TECHNIQUE
A 5 day workshop that will focus on this specific mosaic technique which was developed in the mid 19th Century and is used when for estetique, technical or architectural needs a perfectly flat surface is required. Having acquired the basics of mosaic cutting and laying in the previous week, during the following 40 hour course students will prepare a 40x40cm cartoon developing a personal idea (or use a cartoon given by the school), and they will make and lay their own mosaic with the indirect technique.